The price of Waves, the underlying token in the Waves Platform continues to rally towards new highs, this time going as high as $6.51. Volume is also high with over 3.7k BTC exchanged in the last 24hours in the WAVES/BTC market. Sitting at $5.67 at the time of writing, Waves has even reached the top 10 market caps.
The increase in price, although not the most relevant factor, can help Waves expand its outreach to potential users, investors and to projects/startups who can kickstart their projects on the Waves Platform, allowing their token to be immediately tradable on the Decentralized Exchange (DEX) for other tokens, cryptocurrencies and even fiat.
Not only is the recent rally helping Waves establish itself in the cryptosphere, the team is also giving the platform visibility by providing their insights, experience and knowledge on blockchain technology at conferences, meetups and other events.
These events are helping educate all sorts of people, from cryptocurrency enthusiasts to potential new users that are interested in this new technological and economic revolution, blockchain technology.
Recently, we talked about the Genesis Moscow Conference, an event that is self-described as "a community platform for everyone who is ready to share knowledge about Blockchain tech and do some serious myth-busting". Most recently, however, Sasha Ivanov, CEO and founder of the Waves Platform has also attended the St. Petersburg International Economic Forum (SPIEF), where he participated in "The Explosive Impact of Blockchain Technology" discussion.
The discussion had an all-star panel comprised of Ethereum founder Vitalik Buterin, Movencorp Inc. Founder and CEO Brett King, Minister of Communications and Mass Media of the Russian Federation Nikiforov and many others.
Starting with an overview of the current state of blockchain technology, which was classified as a sort of fourth industrial revolution by some, the discussion counted with questions regarding both implementation and impact of blockchain technology. When asked about the most pressing issues facing the current blockchain landscape (scaling, regulation, and others come to mind), Sasha Ivanov started by using Waves as an example of the how blockchain protocols are maturing, passing the "point of no return".
During the panel, Sasha Ivanov also noted how disruptive the implementation of blockchain technology is, given its divergence from our past trend, centralization. He stated:
"This is an intriguing point in history: over the past 5,000 years technology has moved progressively towards centralisation, and so the paradigm shift towards decentralisation is dramatic."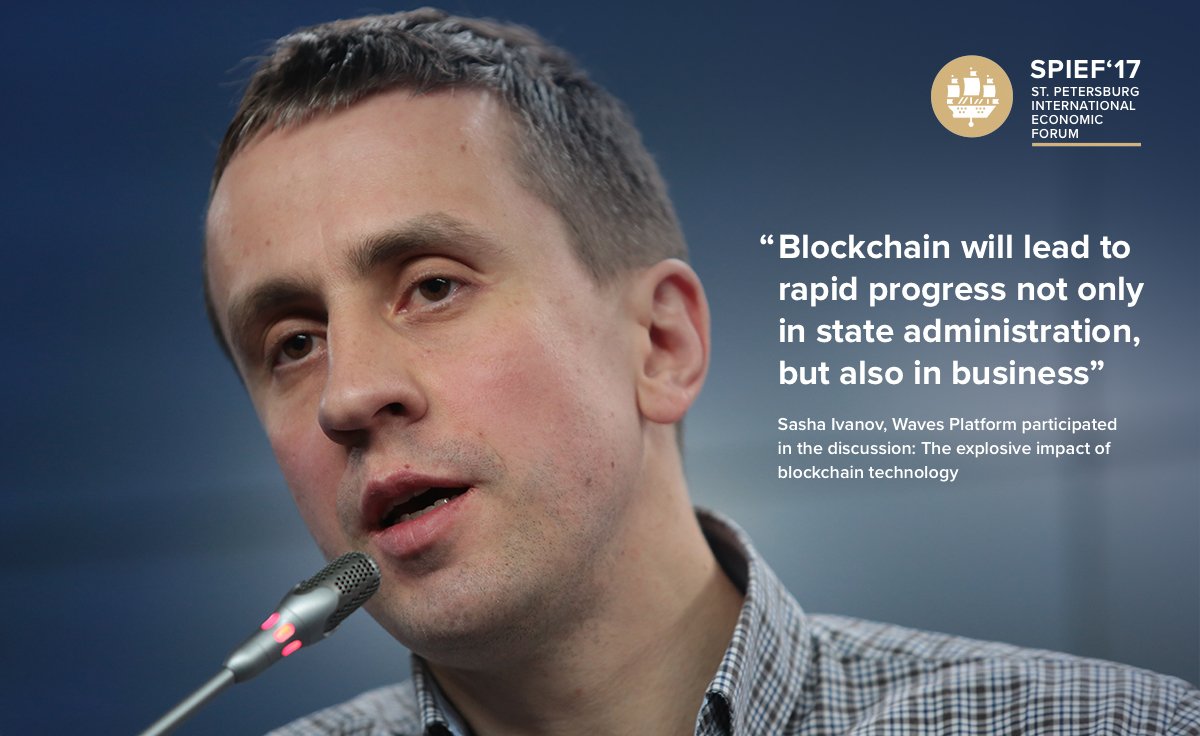 The panel tackled many other recent developments within the blockchain world, like the current ICO landscape, the drastic upsurge in cryptocurrency popularity in places like Japan, and of course, the current regulatory framework surrounding cryptocurrencies and the lack of it. Sasha Ivanov stated:
"We need pilot programs, and to scale them up when we know they work."
To learn more about the Waves Platform, visit the official website. You can learn more about the "The Explosive Impact of Blockchain Technology" discussion here.